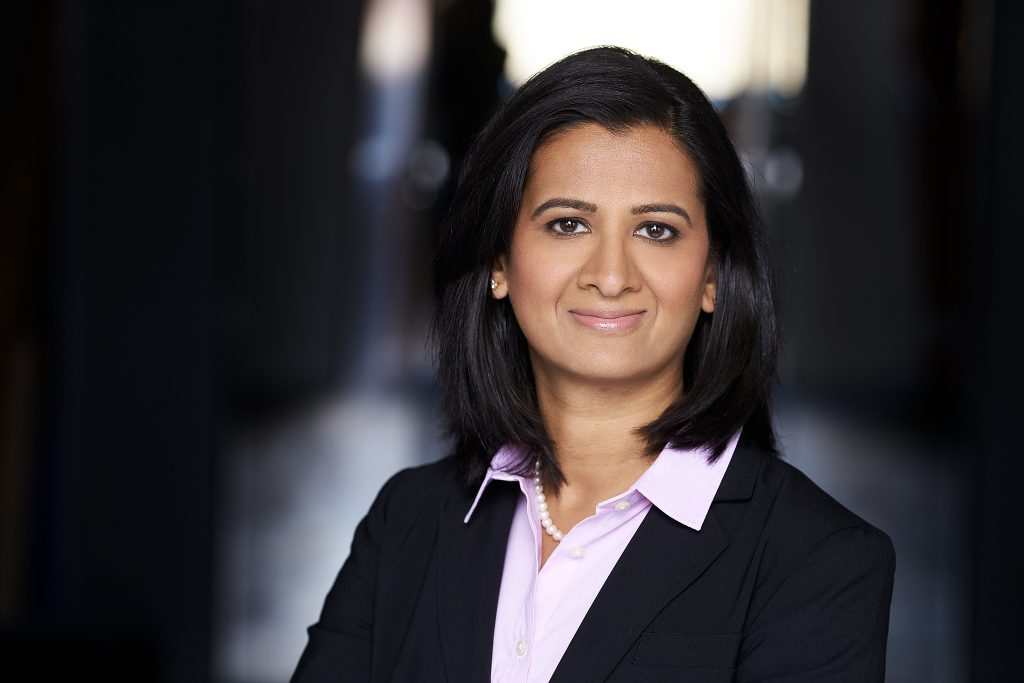 Ms. Patel is a founding Principal with Lin and Patel LLC.  Ms. Patel counsels a variety of corporate clients and clients seeking counsel on the establishment, financing and delivery of health care. Ms. Patel believes every issue she confronts should be viewed through a legal, business and practical lens, a belief that evolved from her past roles as government counsel, private counsel and general counsel. She practices in all areas of healthcare law, with a focus on all transactional and corporate aspects of the business, reimbursement issues including payor audits, compliance with both federal and state regulations with a focus on fraud and abuse and general counsel matters.
Prior to joining Lin and Patel LLC, Ms. Patel worked as a government lawyer, in a private law firm and as a general counsel to several corporations.
As counsel for a government state agency, Ms. Patel served as an adviser regulating several types of healthcare entities including skilled nursing facilities, assisted living facilities, ASTCs, ESRDs and hospitals.  She helped her client navigate through licensure, surveys/corrective action plans, life safety code and certificate of need issues.  Most notably, Ms. Patel participated in drafting rules and regulations which gave her insight into the legislation passage process and analysis taken to form such laws.
As private counsel at a nationally distinguished law firm, Ms. Patel focused on physician shareholder and partner set ups, certificate of need, state and federal compliance with Stark, Anti-Kickback and Civil Monetary Penalties Law, HIPAA, and Medicare audits and appeals to primarily hospitals, national physician group practices, long term care facilities and home health centers.
After private practice, Ms. Patel went on to be the General Counsel for a hospital and physician group where she sat on the management teams and led the organizations through both medium and large scale acquisitions, advised on legal operations, compliance, board governance, reimbursement, and implemented policies and controls to reduce risk.
Areas of Focus
Hospital-physician alignment
Serving as interim general counsel
Physician Group entity formation and joint ventures
Medicare, Medicaid, RAC, MAC, UPIC and other Payor Audits
Acquisitions and mergers
Contract drafting
Fraud and abuse- Stark, Anti-Kickback and CMPL compliance
HIPAA/Health Information and Security
Physician staff privilege and licensure matters
Certificate of Need
Corporate Governance
Regulatory compliance including drafting and implementation of policies and procedures
State licensure surveys and corrective action plans
Industries
Federally Qualified Health Centers
Home Health centers
Hospitals and Academic Medical Centers
Long-Term Care Skilled Nursing Home, Assisted Living, Home Health and Hospice
Physician Groups
Education
J.D., Loyola University of Chicago School of Law, Health Law Certificate, 2007

Public Interest Law Reporter, Senior Editor
Women's Law Society, Vice President
Teaching Assistant and Academic Tutor, Torts
CALI Award for highest grade in Torts
Dean's List
Fellowship with National Academy of Elder Law Attorneys
Judicial Scholarship from ABA Section of Litigation
B.S., University of Illinois at Urbana-Champaign, 2000
Bar Jurisdiction
Memberships
American Bar Association
American Health Lawyers Association
Illinois State Bar Association